Whether you are new to Raleigh, traveling or a well-established local (myself included), you can appreciate a well-rounded food, shopping and entertainment experience in the heart of southern tradition and innovation. I have composed a list of my personal favorite Raleigh staples that will make you feel like you own the town.
1. Jubala a local coffee shop where freelance designers and photographers set up camp. With two convenient locations-one in North Raleigh's Lafayette Village and the other on the cusp of downtown-these shops give you a quality buzz and a modern place to socialize. Jubala uses Counter Culture for lattes, pour-over and drip coffee to ensure the highest quality caffeine experience. This is also my go-to spot for a light sunday brunch. The nutella banana waffle and almond latte are my signature sweet orders. It is also a great midday work pit stop for panini press sammys with fresh local ingredients. I'd give this spot a 10/10 in location, quality and gram-worthy.
2. Trophy Brewing Company What started out as a micro-brewery has turned into a local competitor for the best pizza in Raleigh. Original brews with notes of funky flavors like banana, milky way and piña colada allows this place to have a taste for everyone. My favorite savory snack is the "Most Loyal" (a title I have truly earned) which is a pesto-based pizza with mozzarella, tomatoes and chicken (try subbing in soppressata) and finished with a honey-glazed crust. Pair that with the Trophy Wife (their most popular beer) and sit outside on the patio for a truly memorable experience. There is a well-rounded menu with vegan and veggie friendly items like the Farmer's Market pizza that rotate seasonal veggies into circulation. Trophy's other locations include a taproom where they brew all the beer for their other locations ( a great saturday night hangout spot) and a downtown tap + table with rotisserie chicken menu items and authentic soft tacos. Trophy makes the list for its diverse selection of beers and great eats.
3. The Flourish Market Shopping never felt so good. This sweet shop-new to the Raleigh scene-is in the Glenwood South neighborhood and sells ethically made goods like apparel, accessories, decor and gifts. Each line of goods is tied back to helping women be successful in their communities and part of each proceed goes towards a cause. They have such good taste in selecting trendy pieces for both your wardrobe and your home. It also makes a thoughtful gift to share the sentiment that you helped someone in need while selecting a special item for the one you love.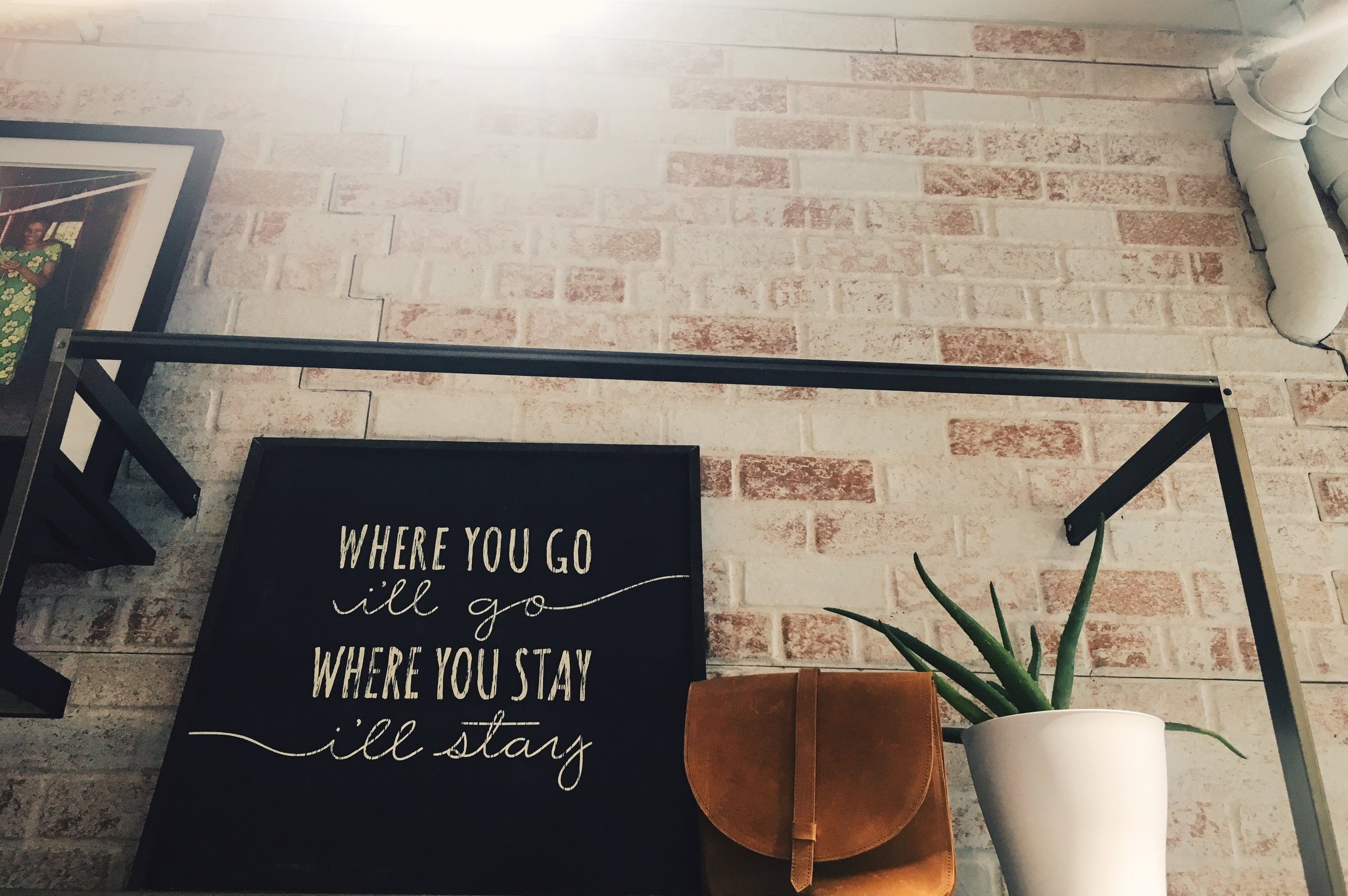 4. Lucettegrace The "sweetest" spot in town is an adorable pastisserie with freshly-made macaroons, croissants and other pastry perfections. The coffee is so underrated. There are lattes in cute camping-like mugs and it has recently started having succulent creations for every season. The decor is a chic yet cozy shop that makes you feel transported to modern-day paris. Last time I was there I had an iced vanilla latte and a maple waffle macaroon and I was reborn. This is a great place to pick up treats with a friend, for a meeting or just to stop in and enjoy the darling atmosphere.
5. Raleigh Times Giving a nod to Raleigh's one-time afternoon newspaper, this local watering hole and music venue smack dab in the middle of downtown will have you in hipster heaven with its historic context and exposed brick. It is the perfect spot for a first date in good weather because of its rooftop seating with a spectacular view. Tuesdays are for Beer & Banjos, an event that showcases the best brews and musical talent in the area. My favorite order: the pulled pork nachos and a carafe of seasonal sangria (perfect for sharing).
Honorable Mentions: Crawford & Son, Art Deco, Virgil's, Yellow Dog Bakery, Farmer's Market, Father & Sons Antiques, Rise Biscuits, Cafe Carolina, Red Hat Amphitheater, Calavera and Raleigh Brewing Company.
If you need any more suggestions I would love to give you my complete list of #ckapproved places in Raleigh and the Triangle. Be looking out for my Top 5 places to feel like a local in Durham.
all photos taken by me and more of my lifestyle photos available on my instagram